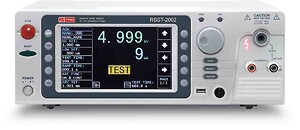 RS Components (RS) is now stocking an extensive range of RS PRO bench test & measurement products. The range offers various functions and applications, providing a full suite of electronic instruments for customers in the engineering community.
A highlight in the range is the RS PRO RSST-2000 series of insulation testers. These electrical safety testers feature a double insulation design that makes them the world's first to comply with the IEC 61010-2-034 safety standard. Comprising four models, each caters to a wide range of applications and features for greater functionality.
The RS PRO electrical safety testers provide a high-quality and high-efficiency solution to any electrical testing needs with an output capacity of 200 VA. They are ideal for preventing potential equipment failures before they occur and make for excellent troubleshooting tools. The primary test functions include AC and DC withstanding voltage, ground bond, and grounding continuity.
The series features superb output adjustment resolution, measurement resolution, controllable voltage ramp up and ramp down time settings and upper/lower limit judgement settings. The high illumination LED lights (flashing or permanently lit) and high-volume audio indicator provide warnings of the status during on-going tests or judgement results from the safety analyser.
Other functions and features of the RSST-2000 series includes 100 sets of manual test memory for the storage of different test conditions; rear output terminal for system integration; and front panel remote control terminal mount/rear panel signal I/O for users to control the analyser's output/stop based upon the requirements.
In addition, the RS PRO range of bench-top test & measurement equipment includes programmable power supplies, oscilloscopes, waveform generators, digital multimeters, and arbitrary function generators.
The RS PRO RSST-2000 series is competitively priced and comes with the RS PRO Seal of Approval and three-year warranty. These instruments have been through high-calibre compliance and quality testing to assure quality, durability, and consistency.
The RS PRO range of bench test & measurement equipment is shipping now from RS in the EMEA region.