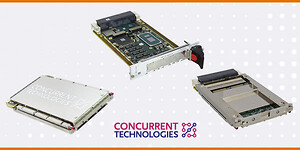 Concurrent Technologies announce a 3U VPX Card with 100G Ethernet -TR L9x/6sd-RCx
Let us announces a new 3U VPX conduction-cooled plug in card based on
the Intel® Xeon® W-11000E Series processor (formerly known as Tiger Lake-H) for use as the system controller in high performance sensor based solutions in the defense space that are used in Situational Awareness, Software Defined Radio and RADAR processing applications. (Download datasheets below)
SOSA™ Technical Standard for I/O intensive processor boards
TR L9x/6sd-RCx has been designed in alignment with the SOSA™ Technical Standard for I/O intensive processor boards. There are two processor options:
An 8-core solution fitted with the Intel® Xeon® W-11865MRE processor; a 4-core solution fitted with an Intel® Xeon® W-11155MRE processor.
– Both of these processors come with an integral GPGPU engine with 32 Execution Units which can be used for display or acceleration purposes using OpenCL™, OneAPI or OpenVINO™ for image processing or Artificial Intelligence. TR L9x/6sd-RCx is the first processor board from Concurrent Technologies to support up to 100GBASE-KR4 Ethernet capability which makes it suitable for many future applications needing high throughput communications. TR L9x/6sd-RCx supports a range of standard security capabilities including Boot Guard, Total Memory Encryption and is fitted with a Trusted Platform Module for key storage. In addition, Concurrent Technologies offers an additional Guardian Package for enhanced security.
3U VPX I/O Intensive Plug In Card – TR K9x/6sd-RC
Next announcement from Concurrent is a new 3U VPX Plug in Card (PIC) designed in alignment with the SOSA™ Technical Standard. This new I/O intensive processor is targeted for use in a variety of Situational Awareness and Intelligence, Surveillance and Reconnaissance (ISR) applications that need a combination of general-purpose processing augmented with image processing and Artificial Intelligence (AI) acceleration.
Up to 4 CPU cores mated with 16 Gbytes of soldered DDR4 DRAM
TR K9x/6sd-RCx is based on an 11th Gen Intel® Core™ Processor which has up to 4 CPU cores mated with 16 Gbytes of soldered DDR4 DRAM with in-band Error Correction Code for high-performance general-purpose compute tasks. The Intel® Iris® Xe Graphics integrated into the product adds up to 96 Execution Units for AI and acceleration when utilized by an OpenCL, oneAPI or OpenVINO™ application.
Extra processing or I/O can be included within a single slot via the onboard XMC site which means that the product can be easily reconfigured for specific application needs. Connectivity to the XMC site and the backplane data and expansion plane connections is via a PCIe switch with non-Transparent port and DMA capability, allowing for SWaP optimized multi-processor solutions without the need for a separate PCIe switch. In addition, TR K9x/6sd-RCx supports a number of rear connections for easy development and deployment including Ethernet, DisplayPort and USB. One of the advantages SOSA alignment is that the rear I/O connections are defined on the backplane, allowing customers to easily realize technology transitions and extend product life cycles. Download datasheet:
3U VPX Plug In Card -TR K9x/msd – SOSA aligned VPX – Single Board Computer
And a last announcement: TR K9x/msd is a 3U VPX TM board based on the Intel ® Tiger Lake UP3 Processor, and is designed in alignment with the SOSATM Technical Standard for I/O intensive processor boards.
Key Features
Based on Intel® Tiger Lake UP3 4-Core 15W TDP Processor
PCI Express data and expansion planes for direct connection to accelerator boards
XMC site for additional compute or I/O resource
Direct-attached solid-state storage options
Optional front panel I/O module on air-cooled variants
Air-cooled and rugged conduction-cooled variants
Link to article What is VPX:
– Specifically designed to enable high performance. VPX products are widely deployed in military & aerospace environments due to their robust, high performance nature. Rugged variants are usually available based on a rigorous testing cycle to ensure reliability in severe
operating temperatures, shock, vibration, altitude & other environmental factors.

Welcome to contact us for solutions, products or support: info@recab.com
Recab Denmark
Hassellunden 14
DK – 2765 Smørum
Phone + 45 70 300 310